Saturday, October 29th. Rain or Shine!
9:00 am – 11:30 am
Register HERE!
Click HERE to see a larger, printable brochure.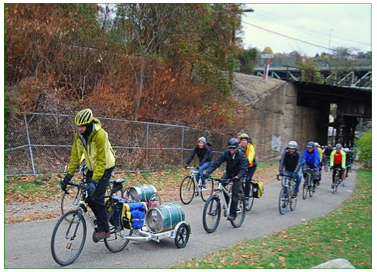 The Western Pa chapter of the Association of Fundraising Professionals, AFP-WPA Chapter announces 2012 Diversity Fellows Program
Click HERE to Download the 2012 AFPWPA Diversity Program Press Release
The Association of Fundraising Professionals, Western Pennsylvania Chapter (AFP-WPA) is pleased to announce a call for applicants for its 2012 Diversity Fellows Program. The Diversity Fellows Program is an outreach initiative of AFP-WPA, which extends scholarship opportunities to minority and underrepresented populations for inclusion in the chapter's membership.
AFP-WPA will select two (2) Fellows for 2012, who will receive member benefits at 8% of the cost of a regular membership. Applicants must have substantial responsibility for fundraising in their organization with at least one year of experience. Fellows will receive: admission to monthly chapter programs, a seat at the 2012 National Philanthropy Day, and attendance at the AFP Emerging Philanthropy Conference. Fellows will be recognized in chapter publications and events and will receive valuable training and professional development opportunities through AFP-WPA mentors, programs, and events.
The Diversity Fellows Program is intended to increase awareness of the mutual benefits of diversity and inclusion for chapter members, offer guidance to underrepresented fundraising professionals in achieving their career objectives, and provide mentoring, networking and professional development opportunities to minority fundraising professionals. Jeff Lukacsena, a diversity committee member guiding the selection process, stated, "The need for this program was evident through our review of current membership. It is critical for our organization to have representation across all ethnic and underrepresented backgrounds, and this program will help provide access to these populations."
"As a visually impaired member who travels with a Seeing Eye dog, I appreciate first-hand the opportunities I have been given by the Western PA chapter of AFP. Having worked as a volunteer fundraiser for two nonprofits, AFP has afforded me the professional development and networking opportunities to advance toward my future goal of being a major gift officer for one of the guide dog schools in either the U.S. or Ireland."
For more information about the 2012 Diversity Fellows Program and application information, visit the AFP-WPA website at www.afpwpa.org. Please e-mail and mail a completed application by November 30, 2011 to:
Jeff Lukacsena
111 Jamison Lane
Monroeville, PA 15146
Cell: (412) 558-0229; Home: (412) 824-4709
jlukacsena@comcast.net
How Sensory Disorders Impact the Cognitive, Behavioral,
and Communication Skills of Individuals with Autism
Kathleen E. Morris, MS, CCC/SLP
Friday, October 21, 2011
8:30 a.m. – 4:00 p.m.
Register HERE!
Click HERE to see a larger, printable brochure.
Click HERE to view conference sponsor, exhibitor, and advertising information.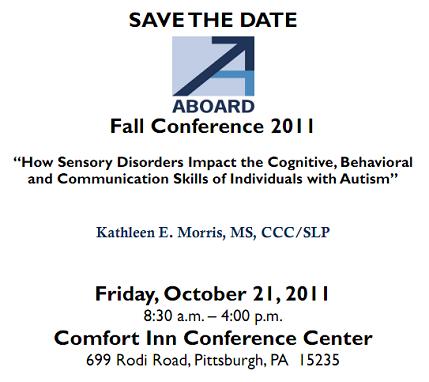 Kathleen Morris, MS, CCC-SLP, is a nationally recognized speech-language pathologist with more than 30 years experience in public school and private practice settings. She holds a Certificate of Clinical Competency from the American Speech-Language Hearing Association.
Ms. Morris established the first sensory integration clinic in Dallas, Texas to address and educate people regarding sensory issues. She founded the Pediatric Network Foundation establishing the first and only preschool in Dallas for children with sensory issues.
Ms. Morris is the founder/publisher of S.I. Focus magazine, the only magazine dedicated to sensory integration, with readers in 17 countries. She served as the President of the Pediatric Network Foundation and serves on the Advisory Board of the National Autism Association.
Ms. Morris has presented workshops on child development and sensory integration for 25 years, both nationally and internationally. She volunteers in Russian, Romanian, and Bulgarian orphanages, helping to establish an understanding of how children are at risk for sensory and attachment issues when living with deprivation. She also speaks to adoptive families regularly and her article on sensory integration was published in Adoption Today in the United Kingdom.
Saturday, August 4, 2012
10:00 am – 2:00 pm
Register HERE!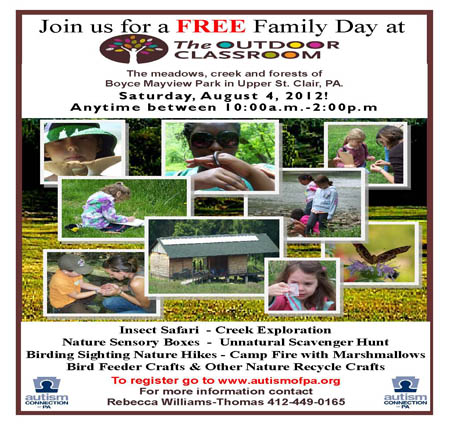 Click HERE to see a larger, printable brochure.
Tuesday, October 4, 2011
from 12:00 a.m. to 11:59 p.m.
Make donations at:
www.PittsburghGives.org
Click HERE to see a larger, printable brochure.