Lending Library Information
Our Lending Library of Books and Media has an extensive collection of books, videos, and other materials on autism and related disorders available to lend. We currently lend over 2,000 items every year.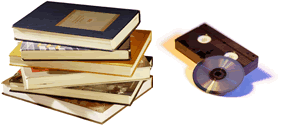 If you find something that interests you within our collection, you can request an item via the Lending Library.   When you request an item, you will be asked for your name, street address, phone, and email.
If you find an item in our Lending Library that you want to own, you can purchase the item by clicking the Buy on Amazon link. For each item that you buy, Amazon will contribute up to 8.5% of the purchase price to ABOARD's Autism Connection of PA.
You can also request library items by calling our office at
412-781-4116, or toll free at 1-800-827-9385.
Every item that you request has a CategoryID# that includes a Category Code and a Subject Code:
CATEGORY CODES:
Book
B
CD
C
DVD
D
Journals
J
Cassette Tapes
T
Publications
P
Video (VHS)
V

SUBJECT CODES:
ABOARD
AB
Autism
AU
Asperger's/HFA
AS
Biography/Autobiography
BA
Behavior
BE
Biomedical/Diet
BD
Children's Books
CB
Communication/Language
CL
Defeat Autism Now
DA
Education/Inclusion
EI
How-To
HT
Miscellaneous
MI
Sensory Issues
SI
Social Skills
SS
Therapies
TH
We will mail you each item free of charge. The only cost to you will be the return postage back to us. You can borrow up to four items for a period of up to one month. For more information, please read our Library Lending Procedures.
If there is an autism-related book or other item that we do not have in our library that you would like us to have, please Contact Us.
If you would like to donate a book to our library, please visit our Amazon Wishlist to see what we are in need of. For each item that you donate to us through our Amazon Wishlist, Amazon will contribute up to 8.5% of the purchase price to ABOARD's Autism Connection of PA.