ABOARD Fall Conference 2011
How Sensory Disorders Impact the Cognitive, Behavioral,
and Communication Skills of Individuals with Autism
Kathleen E. Morris, MS, CCC/SLP
Friday, October 21, 2011
8:30 a.m. – 4:00 p.m.
Register HERE!
Click HERE to see a larger, printable brochure.
Click HERE to view conference sponsor, exhibitor, and advertising information.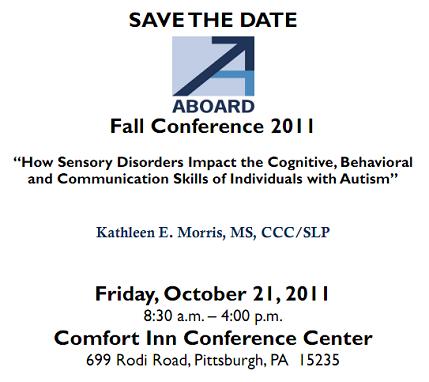 Kathleen Morris, MS, CCC-SLP, is a nationally recognized speech-language pathologist with more than 30 years experience in public school and private practice settings. She holds a Certificate of Clinical Competency from the American Speech-Language Hearing Association.
Ms. Morris established the first sensory integration clinic in Dallas, Texas to address and educate people regarding sensory issues. She founded the Pediatric Network Foundation establishing the first and only preschool in Dallas for children with sensory issues.
Ms. Morris is the founder/publisher of S.I. Focus magazine, the only magazine dedicated to sensory integration, with readers in 17 countries. She served as the President of the Pediatric Network Foundation and serves on the Advisory Board of the National Autism Association.
Ms. Morris has presented workshops on child development and sensory integration for 25 years, both nationally and internationally. She volunteers in Russian, Romanian, and Bulgarian orphanages, helping to establish an understanding of how children are at risk for sensory and attachment issues when living with deprivation. She also speaks to adoptive families regularly and her article on sensory integration was published in Adoption Today in the United Kingdom.