Characteristics of Autism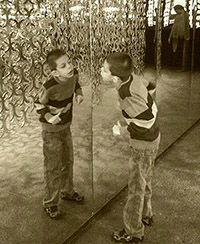 Individuals with ASD do not follow the typical patterns of child development. Some children show indications of future problems soon after birth. Other children have a normal development up to ages 12 to 36 months, when they begin to act strangely, lose language, and regress in the social skills they had previously demonstrated. In many cases, the problems in communication and social skills become more noticeable as the child lags further behind other children of their same age.
Common Autism Characteristics Include:
Sensory Issues
Many people with autism are extremely sensitive to certain sounds, lighting conditions, textures, tastes, and smells. Others may have an unusually high pain threshold, and yet find light touch to be unbearable.
Language Deficits
By age three, many children with autism have not passed the predictable linguistic milestones. Those who do speak often use language in unusual ways, such as speaking too loudly or quietly, using "professor-like" adult language, or repeating back words and dialogue that they have heard. Others may speak much later than other children, or remain without spoken language throughout their lives. Many learn to use communication systems such as pictures, computer devices, or sign language.
Social Skills Difficulties
Social understanding deficits make it difficult for some people with autism to make friends. Autism is characterized by a sensory processing delay, and many people with autism cannot process social experience at the speed that it is happening, causing them to become overwhelmed, anxious, angry, and depressed.
Emotional Regulation Challenges
Contrary to popular belief, people with autism have the same range of emotional experience as those without the condition. However, due to their sensory and neurological issues, it is common for people with ASD to have difficulty processing and regulating their emotions. This can result in emotional delays that may make the person an easy target for bullying, and may lead to anxiety and depression.
Behavioral Differences
Autism is neurological, not behavioral. The "behaviors" of autism come as a result of alternate brain wiring that causes processing speed delays and sensory integration issues. These behaviors are often the only means that autistic people have of regulating their environment and communicating their experience. Successful behavioral therapies acknowledge the autistic person's behavior, while teaching them ways to communicate with the world around them.
Special Interests (also called Perseverations)
Many people with autism have special interests, subjects that they are passionately focused on to the exclusion of all other topics. Most special interests can be translated into academic studies that can lead to lifetime employment in the area of interest. It is important to start early to identify the autistic person's special interest and select marketable trades that utilize these interests.