2nd Annual Masquerade Bowl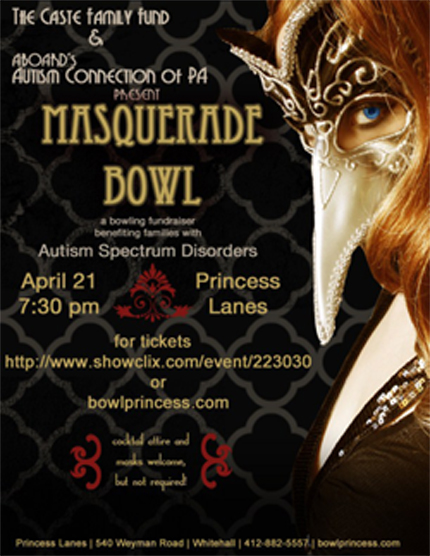 Click HERE to order tickets!
The Masquerade Bowl for Autism is an annual fundraiser at Princess Lanes to benefit ABOARD's Autism Connection of PA and the Caste Family Fund. Both are local non-profits and working to help families in the Pittsburgh area with autism. The event includes unlimited bowling, drink tickets, light appetizers,  a chance to bid on various prizes and a 50/50 raffle.
Cocktail attire is suggested, but not required!
Masks are also welcome, but feel free to do up the masquerade theme or ignore it completely!

Click HERE to be a sponsor!
Our auction is a fun and important part of each year's fundraiser.  Your donations are critical to our success.  Dinners, event tickets, jewelry, spa certificates, retail gift cards, or your other creative prize ideas are needed.  Small things may be mailed to our office.  If you decide to put together a larger basket or other collection of gifts, we will arrange to pick them up from you. Our name has changed but our address remains the same!  Please mail or bring items to:  Autism Connection of PA, 35 Wilson Street, Suite 100, Pittsburgh, PA 15223.
Click Here for the Auction Donation Package!
Thank you in advance for your tax-deductible generosity!